For the second consecutive week, President Trump's declaration of Jerusalem as the capital city of Israel has fueled massive Palestinian protests on Friday. For the second consecutive week, Israel responded militarily, shooting at the demonstrators.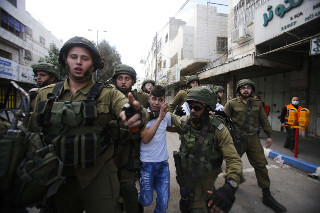 Four Palestinian protesters were confirmed killed, and 160 others wounded, as Israeli troops opened fire on demonstrators in both the West Bank and the Gaza Strip. All four killed were said to have been killed with live gunfire.
The bulk of the casualties were at the Israeli-Gaza border, where thousands of Gazans rallied along the border fence, and at least 150 were wounded when Israeli troops opened fire. Among the two slain in Gaza was a man in a wheelchair.
The Israeli military said 3,500 protesters were at the Gaza border, and insisted that the troops 'fired selectively" into the crowd, shooting the "main instigators."
One of the dead in the West Bank was accused of having had a knife and "what looked like a bomb belt," though medics later confirmed that the bomb belt was fake.