Israel's military was quick to issue a statement of denial Tuesday after reports that a pair of Islamic Jihad militants were killed, and speculation that this might've involved an airstrike against the Gaza Strip.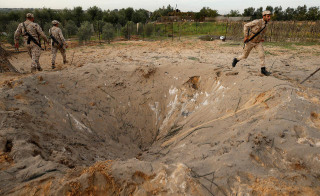 The statement from Islamic Jihad also suggests that the incident was not an Israeli attack, but rather a result of an accidental detonation of their own explosives, terming them "martyrs of preparation."
The two militants were said to have been riding on a motorcycle at the time, and the explosion left a large crater in the ground at the side. It's unclear what exactly they were preparing to do when this happened.
Tensions with Israel are soaring however after last week's declaration by President Trump that Jerusalem is Israel's capital, and this has led to rocket launches from Gaza and a flurry of Israeli airstrikes.