The future of the 1987 Intermediate-range Nuclear Force Treaty has been up in the air for several years, with US officials repeatedly claiming that a past Russian missile test amounted to a treaty violation. Russia has insisted that it was not a violation.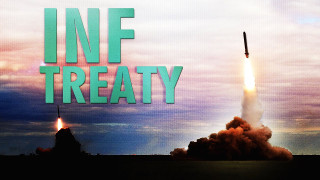 Over the weekend, Russia responded to the latest of what's literally been some 4-5 years of US allegations over that test by again reiterating that they don't see a violation, and that they are committed to the treaty.
But US-Russia tensions have gotten progressively worse through that 4-5 year span, which has turned "questions" about a possible technical violation into increasingly shrill US claims that Russia is "violating the treaty," and threatening to withdraw from it.
In practice, the treaty is a relatively minor one among nuclear treaties, and one that officials likely believe they risk for the sake of picking more diplomatic fights with Russia. The risk, however, is that ditching this treaty will lead to the ditching of others, a partial concern given the recent US hostility toward anti-nuclear deals.