Protests and mounting anger over President Trump's Wednesday declaration of Jerusalem as the capital of Israel has also seen spill-over violence along the Gaza frontier, with rocket fire from the tiny strip and Israeli warplanes responding with airstrikes.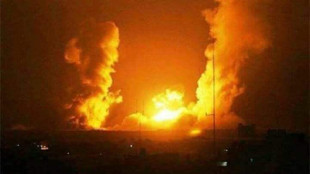 At least three rockets were reported to have been fired from Gaza, and one managed to both reach the southern Israeli city of Sderot and explode, extremely rare given the rudimentary nature of a lot of Palestinian rockets.
The rocket caused some damage to parked cars, and two Israelis are being treated for "shock" after hearing the explosion. Casualties on the Gaza side are much larger, with at least 14 wounded, and some saying as many as 25 were wounded in the strikes.
Though Israel insisted that the strikes targeted "Hamas military sites," Palestinian officials insisted that as many as six children were among the wounded in the strikes.
Of the three Gaza rockets, the Sderot one was the only one to reach Israel intact, with Israel reportedly intercepting one, and a second missile not even managing to get out of the strip before crashing.