Last week's Honduras election appears to be in limbo, with final results withheld pending a recount, and the recount apparently halted outright. The national army is out in the streets trying to prevent protests and imposing a curfew.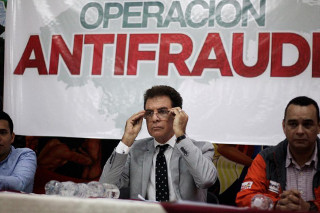 The vote was hotly contested, with opposition candidate Salvador Nasralla leading substantially in polls ahead of the vote, but early preliminary counts showing the incumbent cabinet with a narrow lead.
Nasralla, an outspoken television celebrity, is now pushing the army to rebel against the government outright, accusing the US-backed president of trying to steal the vote. Nasralla says the military should side with the people, not the ruling party.
The police have mostly been charged with cracking down on the protesters in the streets, with at least two killed and hundreds arrested. Electoral officials suggest a "result" is going to be published soon, though it does not appear they intend to do the complete recount they'd previous said was ongoing.