At least 14 people were killed Friday, and 25 wounded, in the hostel of the Peshawar Agricultural Training Institute in northern Pakistan, when attackers from the Tehreek-e Taliban Pakistan (TTP) faction attacked the site.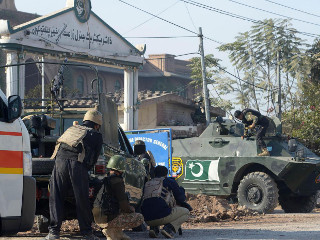 Three explosions were reported in the early morning, after which five gunmen, disguised in burqas, snuck into the facility and opened fire on students within. Officials say the casualty toll is likely to rise.
Peshawar police said the death toll included eight students, one guard, and five attackers. Students and police were among the injured. The TTP was quick to claim the attack, and Pakistani officials say they believe the attackers had connections to the Taliban forces in Afghanistan.
This led to Pakistani officials complaining that some of the orchestrators of the attack remain inside Afghanistan, and that Afghan forces aren't doing enough to prevent cross border attacks. The Afghans, of course, make similar complaints about Pakistan all the time.
The attack could've been much worse. Normally the hostel has around 400 students within, but only 150 were present during the attack because of the Eid Milad-un Nabi holiday.