After Wednesday night's clashes in the Yemen capital city of Sanaa, fighting has continued to rage between the Shi'ite Houthi movement and supporters of former President Ali Abdullah Saleh. At least 10 have been killed in the fighting.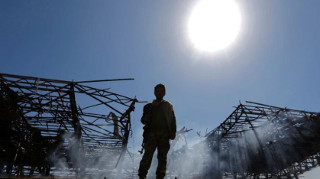 Wednesday's fighting was at the compound of the city's main mosque, which Saleh supporters accused the Houthis of trying to occupy for the sake of an upcoming political rally.
Thursday's fighting was in the same neighborhood, with claims that Houthis have attacked the homes of Saleh's nephew Tarek and the party's foreign minister Ibrahim Sharif. Artillery fire was reported and many civilians fled the neighborhood.
The two factions have been uncomfortable allies throughout the Saudi war, mostly allies of convenience after Saudi warplanes bombed Saleh's home. During his time as president, Saleh fought a bloody war against the Houthi movement and a lot of hostility still remains between the two.