Hoping to get a new round of negotiations going, Russia is pushing for a two-day ceasefire to be declared in rebel-held Eastern Ghouta, a suburb of the Syrian capital city of Damascus which has been the target of recent airstrikes.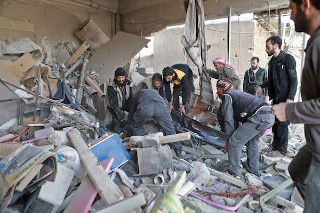 Both sides accuse the other of starting it, but either way, over the past two weeks fighting in Eastern Ghouta has killed over a hundred people, and dozens have been killed just in the past 48 hours, as Syrian warplanes pound the rebel-held areas.
The rebels hold a shrinking amount of Eastern Ghouta, and the Syrian government would very much like to finalize their efforts to purge rebels from the vicinity of the capital city. The rebels, however, have resisted any deals to evacuate so far.
Complicating matters, there are multiple different rebel factions in very close proximity in Eastern Ghouta, so in many cases, a ceasefire may be in effect with one but not the other, and strikes against either are presented as violations by both.