With major protests already causing unrest in the Pakistani capital of Islamabad, the unrest is growing elsewhere around the country, with sympathetic demonstrations in several other cites quickly growing in their own right.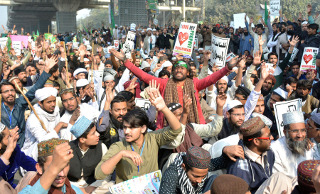 Pakistan's financial capital of Karachi is the hardest hit so far, with multiple protests across the city bringing virtually all other activity to a complete halt. Dozens were reported injured in Karachi.
Major protests were also reported in Lahore, Hyderabad, Faisalabad, and many other cities. The protesters in smaller cities are mostly focused on blocking the nation's major highways, and at this point, many road links across the country are effectively severed.
Clashes have been reported in several of these cities, with local police trying to arrest demonstrators. So far, attempted crackdowns have been disastrous failures, simply leading to ever bigger protests spreading across the country.