Friday's attack on a mosque in the tiny Sinai village of al-Rawdah continues to cast a large shadow across Egypt, marking what is being called the single biggest attack on civilians in Egypt's modern history.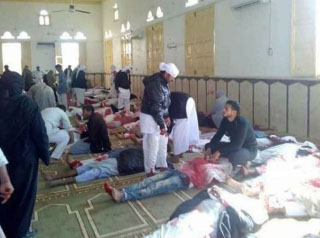 Some 305 civilians were killed and a number of others were wounded when ISIS bombed the crowded Sufi mosque, then followed up the attack with a flurry of gunmen shooting up the panicked crowd, while trying to block the exits.
Village elders say the attack was not unexpected, as ISIS had warned them recently that they both had to "stop collaborating" with the junta, and to forbid the Sufis from holding "rituals" within the village. They'd also reportedly distributed leaflets to villages with similar demands.
Egypt has been fighting the ISIS affiliate in Sinai since their military coup, and has struggled to make any long-term progress against them. The massive mosque attack is seen by some as proof that the junta remains weak in Sinai, despite continued troop deployments and airstrikes in the region.