Fear that the unrest in the breakaway region of Luhansk might risk the stability of the eastern Ukraine ceasefire came to pass Friday, with an eight-hour battle reported near the village of Krymske, just northwest of Luhansk city, and five Ukrainian government soldiers confirmed killed.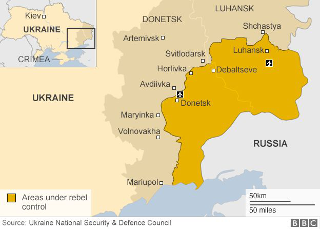 It's not clear how the fighting actually started, but Ukraine's statement accused the rebels of using mortars int he fighting. They also claimed eight rebels were killed in the exchange of fire, though the rebels have made no statement on the exchange.
On Wednesday, the Luhansk People's Republic underwent major turmoil, when President Igor Plotnitsky attempted to fire his interior minister for corruption. The interior minister's forces took the streets quickly, and Plotnitsky fled to Moscow.
Friday, Plotnitsky confirmed he has resigned from office, and Security Minister Leonid Pasechnik is said to be taking over. Calm returned to Luhansk fairly quickly, but it still seems to have been enough to led to some conflict on the Luhansk/Ukraine border.