Catalonia's President Carles Puidgemont's PdeCat party, and their allies the ERC, are reportedly abandoning their push to declare unilateral independence from Spain after the Spanish takeover of their region, and are instead seeking negotiations.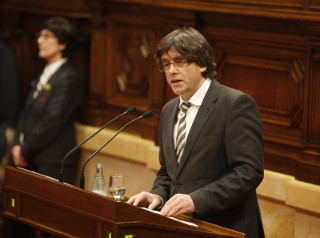 After an early October referendum marred by violence from Spanish police, Catalonia declared independence, but was quickly taken over by force, with much of the cabinet fleeing abroad to Belgium.
Spain revoked Catalan autonomy and dissolved their government, with the intention of holding new elections which they hope will install a pro-unity party. The secessionist parties say they believe that makes this new election effectively a new referendum, and that another vote in favor of them would oblige Spain to accept negotiations.
The parties aren't given up on forming a Catalan republic,but now seem to believe they need a Spanish imprimatur to do so. That's going to be tricky, however, as Spain has insisted any consideration of independence amounted to sedition against the crown.