The attempt by Luhansk People's Republic President Igor Plotnitsky to fire his interior minister for corruption has proven a disastrous failure, with Plotnitsky forced to flee to Moscow Thursday, and apparently out of power.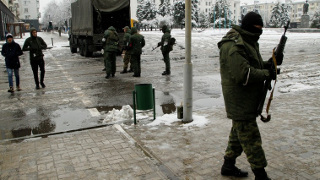 Wednesday saw a lot of chaos in Luhansk with armed factions in the streets. Claims of a "training exercise" were quickly dismissed by pro-Plotnitsky officials, who claimed it was an ongoing coup by loyalists of the interior minister, Igor Kornet.
Kornet's followers seem to be calling the shots now, with reports his men have arrested the local prosecutor, a Plotnitsky ally, and continue to have the local television station surrounded.
The whole situation appears to have been based on claims Kornet was abusing his post, including seizing a bigger home to live in. The region is one of the secessionist factions split from Ukraine during the ongoing civil war, and while there was some concern this might threaten the ongoing ceasefire, so far it seems like it is a semi-orderly power change for the region.
Last 5 posts by Jason Ditz