Palestinian President Mahmoud Abbas has ordered a total freeze of official communications with the Trump Administration following the US State Department ordering the closure of the PLO office in Washington DC.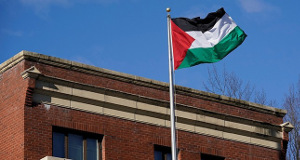 The State Department had refused to renew the permit for the office because the Palestinians had joined the International Criminal Court in September. The US opposes the move because of fears that it would expose Israelis, a non-member, to war crimes prosecutions for crimes committed on Palestinian soil.
The US Congress had forbade the Palestinians joining the court system, though clearly the Palestinians didn't consider that to be a decision US officials could make. The State Department has also dismissed the idea that communications could be closed by the Palestinians.
State Department spokeswoman Heather Neuart insisted that "in our view, communications are not frozen," and that the US will continue to talk with the Palestinians. That the Palestinians aren't going to be talking back, however, seems to be wholly irrelevant to the US estimation of how communications are going.