Russia's Justice Ministry has contacted Voice of America as well as the Russian unity of Radio Free Europe, warning them that they may be affected by reporting requirements under the new "foreign agent" media law passed by parliament.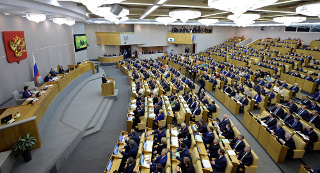 The new law is a response to the US Justice Department forcing Russia's RT to register as a "foreign agent." Voice of America and Radio Free Europe are organized under virtually identical structures as quasi-independent state media outlets.
Though Russia was conceivably already allowed to make such moves in retaliation for moves against Russian media outlets abroad, they'd never actually used that authority, and parliament appears to have believed a more specific legal structure was needed.
Under this new law, which still has to be approved by President Putin, the Russian government would have broad discretion on whether or not to apply the foreign agent reporting requirements. This is very similar to the way the US system is structured. It's virtually unheard of for the US to make moves against foreign media outlets the way they did against RT, and officials have provided very little justification for doing so.