The Israeli Army is preparing to demolish an entire neighborhood of Palestinian homes in the Jordan Valley, in the occupied West Bank. The neighborhood is home to some 300 Palestinians, who will be expelled from the area.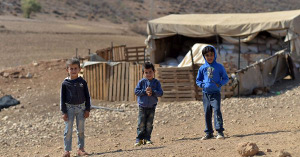 The Israeli Army is using the military order meant to allow for the evacuation of illegal settler outposts, but simply applying it to Palestinians who they say the Israeli military never authorized to live in the region.
The document was signed by Israeli Maj. Gen. Roni Numa, and was not given to any of the Palestinians to be expelled. Instead, a single copy with a vague map of the area to be demolished was left on the road nearby.
The map is believed to include the villages of Ein al-Hilweh and Umm Jamal. Lawyers for the Palestinians note that such eviction orders are explicitly not applicable to Palestinian residents, and claim that there is no legal basis to expel them or destroy their homes.