With both President Trump and Russian President Vladimir Putin scheduled to be in Vietnam for the APEC summit, the expectation has been that a meeting would take place, with Russia confirming one would happen, and weeks of preparation on both sides.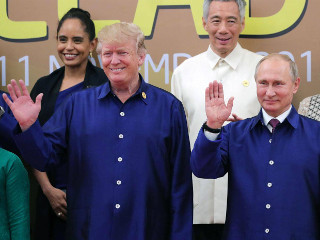 In the end, no meeting took place, with the US spurning the meeting at the last minute, and  while they shook hands when they bumped into each other, they claimed "scheduling conflicts" prevented an actual meeting.
Russia is said to be frustrated with the lack of talks, with Foreign Minister Sergey Lavrov saying reports should ask the US if they wanted to know why no meeting took place. Other officials said there'd been "conflicting signals" from the US side.
Ever-worsening bilateral relations have resulted in meetings with Russian officials being seen as politically risky for the Trump Administration. Instead of worrying about that, officials seem to have decided it is simpler to just not meet.