Reports that ISIS has lost its "last" stronghold in Syria may have been premature. According to the Syrian Observatory for Human Rights, ISIS has recaptured roughly half of the town of Abu Kamal.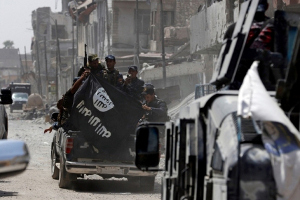 Abu Kamal is the main border crossing into Iraq, where it links with al-Qaim, another town which recently fell to Iraqi forces from ISIS. Within eight hours of Syria reporting the capture of Abu Kamal, however, ISIS was attacking the city again.
While ISIS forces have mostly abandoned towns and cities in favor of fleeing into the desert to return to insurgency, they appear to want to keep Abu Kamal contested for now,and there are even reports from Hezbollah that ISIS leader Abu Bakr al-Baghdadi may be in the area.
With ISIS having abandoned most of the towns along the Euphrates with limited resistance, they likely can deploy large numbers of forces to keep contesting Abu Kamal. It's not clear, however, why the town would still be so valuable, or how long they intend to keep contesting it.