Over the weekend, Lebanese Prime Minister Saad Hariri announced his resignation, while visiting Saudi Arabia, and Saudi Arabia accused Lebanon of a declaration of war after blaming them, and Iran, for a missile fired from Yemen.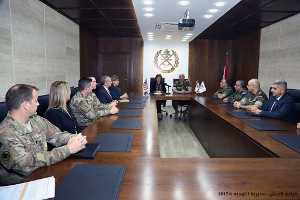 And while the US was quick to endorse the allegation against Iran, despite a lack of evidence, neither they nor the European Union appear to be supportive of any Saudi chicanery against Lebanon, as both reaffirmed their support for the nation Wednesday.
US officials say they're committed to a "stable, secure" Lebanon, while the European Union reaffirmed their support for the nation's sovereignty. Neither of these is in keeping with narratives coming out of Saudi Arabia.
Saudi threats, and a flurry of rumors based off of them, have seen Lebanon's bond market crumble all week, with growing expectations that the Saudis, already in the process of invading Yemen, intend to do something to Lebanon as part of their proxy war against Iran.