Spain's Constitutional Court announced on Wednesday that Catalonia's traditional autonomy "can not be confused with sovereignty," and formally annulled last month's declaration of independence, which resulted in the brief establishment of the Republic of Catalonia.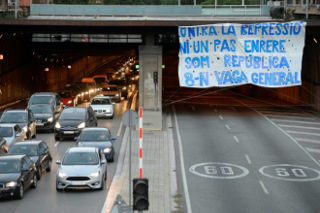 The court presented the declaration as a "serious attack on the rule of law." A referendum showed overwhelming support for independence among Catalans, despite a violent police crackdown on voters.
Spain's subsequent takeover of the region and revocation of autonomy has led to further crackdowns, and arrests of public figures believed to be pro-secession. This has added to outrage among Catalans who came out in force to vote in favor of independence.
Now, Spain is facing a general strike across the Catalonia region, with shops closed and a number of major roads blocked off across the region, with even public transportation down to bare minimum service. Locals who didn't participate in last month's pro-independence rally say they now feel the need to come out in defense of the region, and to oppose the crackdown.