Saudi warplanes targeted a residential area in Yemen's Hajj Province Tuesday, leveling a large building that served as housing for an extended family, killing all within. Over 30 people were killed in the attacks, overwhelmingly women and children.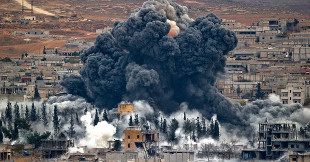 The attacks took place against a village not far from the Saudi border, and left a number of other civilians wounded. It's not clear why the attacks were carried out in the first place, and Saudi officials have not commented on the matter.
Saudi airstrikes have been killing dozens of civilians on a regular basis since early 2015, leading to a massive death toll. This has fueled international criticism of Saudi war crimes, and both the US and British governments for selling the Saudis such arms when they're used so recklessly.
US efforts to compel an end to its involvement in the war have failed for now, but there is a growing campaign in Britain to stop the weapons sales. Historically, Saudi officials have bought a lot of influence in both the US and Britain, ironically with arms sales, but the war crimes are costing them a lot of credibility.