Fighting was reported in Turkey's southeast Hakkari Province on Thursday, along the Iraqi border, with at least eight Turkish soldiers killed and 17 Kurdish fighters, who the Turkish government identified as members of the PKK.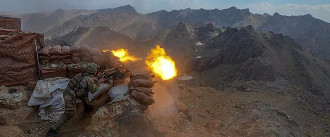 Fighting began early in the day, when PKK members were crossing through the mountains near the border and got in a clash. Five Kurdish fighters were killed, along with the Turkish forces. Helicopters were deployed to the border to look for more.
In the course of that search, Turkey spotted another 12 Kurds trying to flee into Iraq. Warplanes quickly attacked and killed all of them, and identified all of the slain as PKK, though it doesn't appear there was any fighting in this case.
The PKK has been fighting a war with Turkey for over 30 years, seeking independence from the Turkish central government for the Kurdish southeast. During a recent ceasefire, PKK forces were withdrawn to northern Iraq, and operations are still common along the border region.