Iraq has long had problems with oil deals within the country's autonomous Kurdistan region, and an incipient military conflict against the Kurdish region has Iraqi officials ratcheting up the rhetoric over the matter.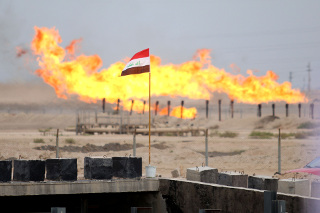 Iraq's Oil Ministry on Thursday issued a statement warning the international community, including both private companies and nations, not to make any deals with Iraqi Kurds without the Oil Ministry's prior permission.
Minister Jabbar Luaiby claimed the Oil Ministry is the only entity in Iraq allowed to make any deals regarding oil or gas. He added that any other deals amount to a violation of Iraqi sovereignty and must stop.
This hasn't been the case since the 2003 US occupation of Iraq, after which a deal on oil wealth was negotiated. Though interpretations of the deal have varied, the Kurdistan Regional Government has been treated as having the right to make such deals with respect to oil in their territory, and while Iraq isn't always okay with that idea, they also never did much about it.