The Iraqi central government has issued a statement Sunday accusing the Kurdistan Regional Government (KRG) of having made a "declaration of war" against them, accusing them of bringing in fighters from Turkey's PKK to the contested province of Kirkuk.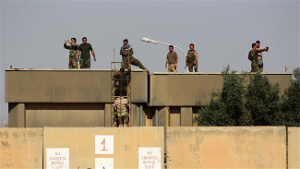 Kurdish President Massoud Barzani denied that any PKK had entered Kirkuk, saying that the only Kurdish forces there are all Peshmerga. He added that the Peshmerga forces are prepared to defend Kurdish territory from Iraqi threats.
In late September, Kurdistan held a referendum, in which over 92% of voters supported declaring independence from Iraq. Iraq's parliament has authorized the prime minister to send troops into Kurdistan to secure control over the country.
Both Iran and Turkey are supporting Iraq, with a suggestion that they might join a war against Kurdish independence. The claims about the PKK being involved are likely designed to encourage Turkey's involvement.
Though both the PKK and the KRG have secessionist ambitions, they have not historically gotten along very well, with the PKK tending to be on better terms with Syria's YPG than with the Iraqi regional political factions.