Reports citing US and European officials familiar with the situation say that last minute pushes to try to convince President Trump to back off his plans to decertify the P5+1 nuclear deal have failed, and he remains determined to take the move and send the deal to Congress for a vote.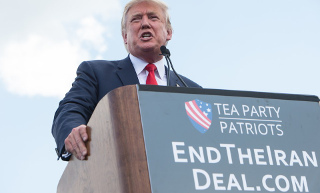 Trump has been talking about decertifying the Iran deal for months, and is expected to make such an announcement any day now, with the latest certification deadline on Sunday. Since Iran is not violating the terms of the deal, Trump will argue the deal itself is no longer in America's interests.
A White House release on the strategy goes back to old, obsolete allegations and vague allegations of Iran being a "threat," and culminates in vague demands that Iran take unspecified actions to placate the US.
Others are saying, however, that Trump will stop short in laying out his "broad" strategy on Iran of arguing specifically for new sanctions that would violate the letter of the P5+1 deal, whether or not the US withdraws from the deal.
In the past Congress has been hostile to the Iran deal, but many see trying to withdraw at this point as potentially problematic, both because the rest of the nations involved appear set to leave the deal intact with or without the US, and because it's going to harm US diplomatic credibility to withdraw so quickly from the pact.