Details are still emerging, but a US convoy in Iraq hit a roadside bomb on Sunday, according to Pentagon reports. One US soldier was killed and another was wounded in the incident.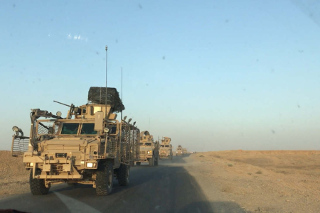 This is the eighth US service member killed in the ISIS war in Iraq and Syria so far in 2017. The Pentagon offered no details about what the troops were doing, or where in Iraq the incident took place.
This is in keeping with the Pentagon's increasingly secretive policy in both the ISIS and Afghan Wars, offering no details on how many troops are deployed, and keeping specifics about how the wars are being fought secret.
This latest incident underscores that despite the massive territorial losses ISIS has sustained in Iraq, the group continues to be active across most of the nation, and roadside bombs continue to be a concern, as they have throughout the US war.