Catalan leader Carles Puigdemont has submitted the results of the the October 1 referendum to the Cataloina parliament, looking to make the vote official. It was a decisive "yes," with an impressive turnout made doubly impressive by the violent Spanish police crackdown throughout the region.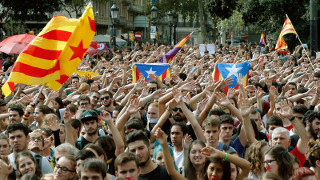 The more immediate concern is to do something about that crackdown, however. Puigdemont is seeking international mediation following the vote, saying he wants to reach an understanding with the Spanish government, and avoid a "traumatic break."
Spain so far has shown no interest in negotiation, with Prime Minister Rajoy insisting the referendum didn't even take place. While most of the region opposes Catalan independence, nations like Belgium are urging Spain to start talking, insisting no good will come of trying to crush Catalonia through force.
Despite Spain's claims this is an "internal" matter, the international community is also not really on board for the crackdown in general. UN High Commissioner for Human Rights Zeid Ra'ad al-Hussein is pushing for an investigation into police action, saying that the situation needs to be resolved "with full respect for democratic freedoms."