Everyone else in the P5+1 seems quite happy with the nuclear deal with Iran, and the IAEA continues to confirm Iran is complying with all terms of the deal. The deal, however, is seen somewhat up in the air, with President Trump bashing the deal, and talking about withdrawal, potentially killing the pact.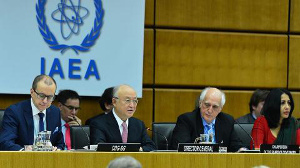 Iranian Foreign Minister Javad Zarif says it doesn't need to be that way, however, and is urging Europe to take the lead on the pact if the United States does withdraw. They say the deal could be kept wholly intact without US participation.
Zarif isn't the first person to suggest this. Indeed, many of the opponents of Trump's call to withdraw warned that the deal isn't conditioned on US participation, and could just remove the US from the equation and make it a P4+1 deal with Iran.
It's also entirely possible, with the IAEA criticizing Trump's condemnation of the deal. The other participants are all loathe to see this deal collapse, and nations like Germany, Russia, and China have been increasingly interested in asserting positions of world leadership, and taking charge in the face of a US pullout to save the nuclear deal would be a big chance to do so.