Secretary of Defense James Mattis and NATO Secretary-General Jens Stoltenberg both escaped unharmed today after a visit to the Afghan capital city of Kabul. The Karzai International Airport, into which they flew, was attacked.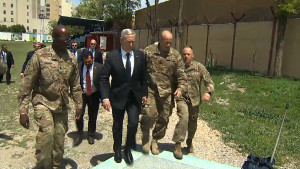 Both the Taliban and ISIS have claimed responsibility for the incident, in which a series of rockets hit the airport after Mattis' arrival. One civilian was reported killed and many wounded when a stray rocket hit a nearby house.
Mattis complained the attack was a "criminal act," and "a classic example of what the Taliban is up to right now." It's unlikely anyone will deny firing missiles at an airport is a crime, though it appears that Mattis was the intended target.
Afghan Interior Ministry spokesman Najib Danish says that two of the attackers were killed after the attack, and a cache of explosives, including rocket-propelled grenades, were seized. The attackers were all holed up in a single building.
It's still unclear whether they were Taliban or ISIS, though both groups have issued claims of responsibility. The Taliban is a more common attacking force in Afghanistan, though ISIS has been growing its strikes.