Russian and Syrian warplanes continue to escalate the number of airstrikes conducted against the rebel-held Idlib Province, looking to further gain on Islamist factions in the area after last week's failed offensive by al-Qaeda's Nusra Front.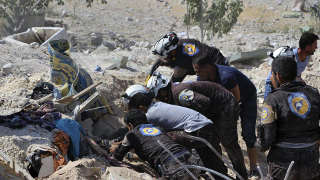 On Wednesday, Nusra forces who had disavowed the Astana ceasefire tried a massive offensive from Idlib into Hama Province against Syrian troops. Russia reported that an estimated 850 Nusra fighters were killed in the course of 24 hours of fighting.
This is a huge loss for Nusra, and the airstrikes that followed appear to be largely targeting their territory in Idlib, trying to keep them on their heels. It's also having an impact on the civilian population in Nusra territory as well, however.
Locals reported that civilians had been starting to trickle back in during the Astana ceasefire, but that the new strikes have the population once again fleeing these areas, back to the relative safety of camps along the border with neighboring Turkey.