With a soaring number of Spanish national police pouring into the northeastern region of Catalonia, what had started as an aggressive crackdown looks to be morphing into a full-scale takeover. Spain has announced all local police across Catalonia are to be placed under the control of the Spanish Interior Ministry.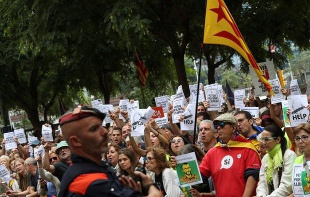 Catalonia is scheduled to hold a referendum on secession from Spain on October 1. The Spanish government has been trying to prevent this vote from taking place, arresting advocates and conducting mass raids trying to find polling places beforehand. Catalan officials insist the vote will take place.
Attempting to outright nationalize all policing within Catalonia is an attempt to step up the crackdown massively, and local officials are promising to resist. Catalonia's Interior Minister has told his forces not to suddenly comply with the national Interior Ministry's orders.
Catalonia is among the wealthiest regions in Spain, and aggressive police tactics are fueling growing outrage among the population, who see it as an insult. Ironically, this appears to be further mobilizing the pro-secession movement, bringing many on-the-fence voters into the pro-secession camp simply to get away from Spain's crackdowns.