Saudi Arabian security forces have begun a campaign of arresting high-profile opposition figures, including high-profile clerics Sheikh Salman al-Awdah, and Awad al-Qarni. The clerics were believed to have been arrested primarily for publicly advocating Saudi rapprochement with Qatar.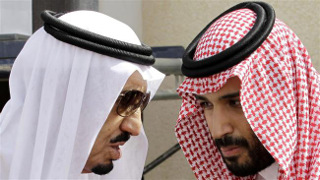 Both clerics are also seen as opponents of the Saudi royal family. Such detentions are expected to continue throughout the week, as a major rally against the royal family is reportedly planned for Friday, and which is expected to be an unusually large challenge to their rule.
This comes amid several different rumors surrounding the royal family, including several sources claiming that King Salman intends to abdicate soon, turning over the country to Crown Prince Mohammed. Saudi analysts say a roundup of dissidents would be in keeping with such a change in power, though it likewise could just be related to the protest.
The abdication plan is just one rumor, as Voice of Israel radio claimed a Saudi prince has secretly visited with Prime Minister Netanyahu, and some are reporting that it was the crown prince. Such a visit, if confirmed, would be unprecedented, and potentially unpopular given Saudi Arabia's long history of not having ties with Israel.
On top of that, while the names of all those detained have not been made public, Prince Abdul Aziz bin Fahd is rumored to be among the detained. The multi-billionaire prince was a key ally to the late King Abdullah, but had largely been politically sidelined in recent years.
All of these conflicting reports on the royal family point to at the very least the situation in Saudi Arabia being unusually unstable. Whether that leads to abdication or not, it would not be unusual for such a flurry of rumors to provoke a crackdown for stability's sake in the kingdom, and such a crackdown could last for some time.