After a meeting between their foreign ministers in Amman on Monday, Jordan announced that they have reached a deal with Russia on the establishment of a safe zone in southwestern Syria "in the fastest possible time."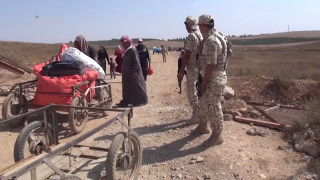 Creating such a safe zone will require getting the current fights between Syrian forces and rebels under control. Details are scant on how this is going to happen, but it's likely related to yesterday's call by Jordan, Saudi Arabia and the CIA for rebels in the area to retreat back into Jordan.
Jordanian FM Ayman Safadi said Jordan's priority is that there will be no ISIS or al-Qaeda fighters along the border. Russia has been interested in setting up safe zones between the various rebels and the government, to allow for a more exclusive focus on ISIS.
This is the latest in a series of safe zones established under a deal between the US and Russia. Such zones have largely been very successful in limiting fighting between more moderate rebel groups and the government, though at times both sides have claimed violations.