US ground troops are massing in the Kirkuk Province for a planned offensive against the city of Hawija, one of the last remaining ISIS-held territory in the area. Timing for the offensive is as yet unclear.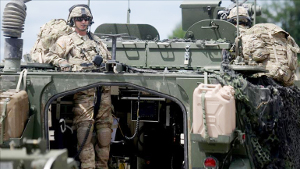 But it seems likely to be soon, with Iraqi and US warplanes launching an escalating campaign of airstrikes against ISIS targets in the area. The strikes seem designed to soften up the defenses in the lead-up to the invasion.
Hawija is ideologically significant for Iraq's Sunni population, because it was the site of a government massacre of protesters in 2013. This massacre was the beginning of soaring Sunni unrest in the country, which led to ISIS gaining substantial territory in the country.
The push to "liberate" Hawija is likely to face considerable public scrutiny because of the Iraqi government's history there. The exact size of the ISIS force therein is unclear, but it's likely that ISIS fighters around the area will congregate at the high-profile target for another big battle.
Mosul was presented as the "last" battle in Iraq, but this is the latest of several major contested cities to be fought over since Mosul, suggesting the ISIS presence in Iraq is far from being "resolved."