According to a new report from Reuters, the Iraqi government is holding some 1,400 civilian family members of ISIS fighters in a heavily-militarized prison camp somewhere in southern Iraq. These are foreign citizens, including wives and children.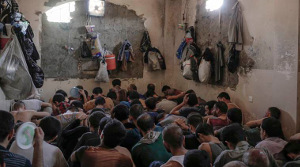 They have been rounded up in the course of various military offensives against ISIS-held territory. Officials say that most of the women are from former Soviet states, though some are from France and Germany as well.
Exactly what's going to happen to any of them is unclear. Western officials have made clear they prefer not to get them back, even though they're civilians. Iraqi officials say they're in de-facto detention until the government decides to prosecute them or not.
Some suggestions related to the capture of German and French women is that the Iraqi government could ultimately execute them for being "affiliated' with ISIS, by having married ISIS members. Reuters reported that conditions in the prison camp are poor, which is likely in keeping with officials being unsure if they're going to mass execute them or not.