The Pentagon has confirmed today that it is calling off its 10-day surveillance of a convoy of ISIS buses stranded in the Syrian desert. The end of the surveillance reportedly came at the behest of Russia.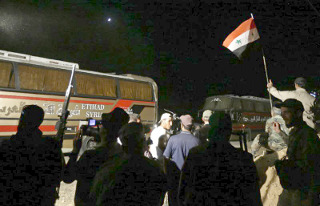 Pentagon officials say they intend to demand that the buses don't reach the Syria-Iraq border. They added that they consider the Syrian government responsible for ensuring that the buses don't get there, and that the government is solely responsible for them.
The US has carried out a large number of strikes against people around the convoy, mostly centering around "suspects" who got out of the buses to go pee. The buses originally contained around 300 ISIS, and 350 civilians. The Pentagon estimated 85 killed.
A number of ISIS fighters were reported to have reached ISIS territory already. Exactly how many are left in the buses in unknown, but the US has long ruled out letting the buses continue on under the ceasefire deal, insisting the civilians can go, but all ISIS must be killed.
The US had previously been said to be trying to negotiate a deal with Russia that would end with that happening, though Russia reportedly spurned the idea. It's unclear what was offered to get the US to back away from the plan.
Last 5 posts by Jason Ditz