Russia's Defense Ministry has reported a series of airstrikes against ISIS targets across eastern Syria's Deir Ezzor Province, killing at least 40 people. They claimed all the slain were ISIS fighters, and that ISIS commanders were among them.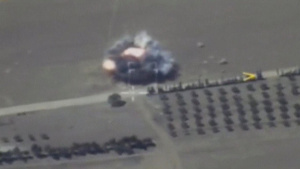 Details on who was killed in the attack are mostly unclear, though one was identified as Abu Mohammed al-Shimali, the "emir" of the Deir Ezzor Province. They also said they killed Gulmurod Khalimov, a US-trained Tajik special forces leader who defected to ISIS in 2015.
Russia also didn't provide details of when the strike was carried out, with reports putting it sometime in the first week of September. Russia would say only that it was the resident of intelligence they acquired about a meeting of ISIS leadership in the area. Deir Ezzor is largely still held by ISIS forces.
If the casualties are confirmed to be ISIS commanders, this would be a break for Syrian military forces who are advancing in the area. Syrian troops reached the provincial capital earlier this week, and are trying to secure a supply line.