The Israeli settlement of Nof Zion has struggled historically, as it was built in the middle of a Palestinian neighborhood in occupied East Jerusalem. Officials are looking to give out building permits to greatly expand the settlement, making it the largest built within a Palestinian neighborhood.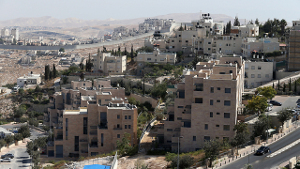 Discussion is set to begin Sunday on the new permits. If approved, this would bringing the settlement to in excess of 200 families. The expansion will cut even deeper into the existing neighborhood, which is sure to fuel anger about the move.
The discussion and presumptive approval will take place as Prime Minister Benjamin Netanyahu is out of the country, visiting Latin America before capping off a 10-day trip at the UN General Assembly in New York.
Which isn't to say that Netanyahu is seeking to avoid being present for such expansion announcements. Indeed, he has arranged for other discussions on big expansions in the occupied West Bank to be put off until he comes back.
Last 5 posts by Jason Ditz