24 hours of intense fighting in central Syria has left over 150 fighters killed and large numbers of others wounded. 120 ISIS fighters were killed, and 35 troops described as including Syrian military as well as loyalist militias.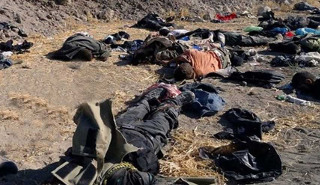 The fighting centered on the town of Uqayrbat, the last ISIS-held town in the Hama Province. The government controls virtually the whole rest of the province, except rival Islamist forces in the far north who hold rural areas.
The territory, including ISIS-held villages, covers one of the main highways connecting Hama to the southern parts of the country. This was one of several paths ISIS used for repeatedly contesting control of Palmyra.
ISIS has been losing territory on a lot of fronts, and it's surprising to see ISIS putting up such heavy resistance for a town that largely no longer holds strategy value to the remaining ISIS territory, as the highway doesn't even lead into ISIS territory anymore.