A joint US-Somali raid on the farming village of Barire a week ago left 10 civilians dead, all of them executed one at a time by the troops. Today, after a week of disputes, the Somali national government finally admitted to the incident, and promised compensatory payments to the survivors.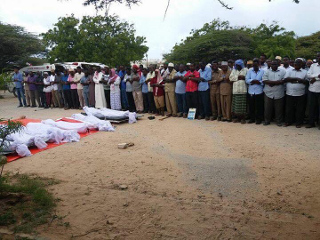 The raid was apparently related to tribal conflicts in the area, and the provincial government blamed US forces for the killings. The national government, at the time, claimed everyone killed, including women and children, were al-Shabaab terrorists.
Locals brought the slain to the capital of Mogadishu for display, and protested the killings, with provincial officials supporting their demands. Ultimately, the national government agreed to admit to the incident, pay "blood money" both for slain civilians and cattle, and to help resolve the tribal dispute in a way that wouldn't lead to further massacres.
Despite having been accused of playing a substantial role in the incident, US officials have not commented at all on it, beyond an initial confirmation that US troops participated in the raid. Though it's hard to imagine US forces were solely responsible for the killings in a joint operation, the fact that they remained silent for an entire week after such an incident speaks volumes about their position on the matter.