Less than a day after Pentagon officials quoted Defense Secretary James Mattis as insisting the US military would do a better job with transparency on troop levels, they've thrown that plan entirely out the window. Mattis has now signed orders on a planned escalation of the Afghan War.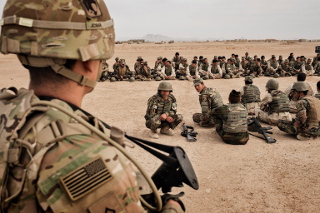 The US had falsely claimed 8,400 troops were in Afghanistan, and corrected that yesterday to "about 11,000." These new orders make that corrected figure obsolete, as the US is offering no details on the size of this new force being deployed.
The lack of figures should be unsurprising, as just last week President Trump insisted that the troop levels would not be made public, claiming the "enemy must never know." Still, it makes Mattis' comments just yesterday all the more bizarre, as he surely would've known the escalation was coming.
Some media outlets are still speculating that the figure will be around 4,000 as officials in the White House gave out such a figure before Trump's speech. This however is believed at best to represent the immediate escalation, and Trump's pledges for an open-ended war in Afghanistan seemed to suggest a plan to add more troops as commanders seek them. This makes accurate figures impossible to discern, and we don't even have the old-fashioned false figures the Pentagon used to provide to base our guesses on.