In their latest monthly statement on the P5+1 nuclear deal, the International Atomic Energy Agency (IAEA) has once again confirmed that Iran is in total compliance with the deal, and that its low-enriched uranium stockpile is well within limits.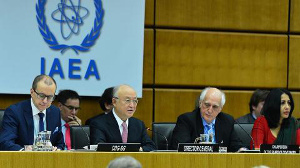 This is the statement they've issued every time since the deal was implemented, but comes at an increasingly important time, as President Trump has repeatedly claimed he considers Iran to be in violation is some non-specific way.
It also comes amid calls from US Ambassador to the UN Nikki Haley for the IAEA to inspect all of Iran's conventional military facilities, to try to look for some violations. The IAEA, however, has insisted that there is no need for this.
Iran had already rejected the US call to check Iranian conventional military facilities on the pretext of a nuclear inspection. The IAEA has affirmed that it has the right to demand access to military sites, but only in the case that there is reasonable suspicion of activity there. Since there is no such suspicion, there will be no inspections.