Despite the Associated Press actually reporting in fairly elaborate detail the specifics of the conversations, officials of the Afghan government today denied yesterday's reports that they are in regular contact with the Taliban.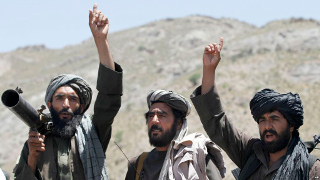 Yesterday's reports said the Afghan intelligence chief is in near daily contact with Taliban leadership, and that many in the government have such contacts, both through Pakistan and through the Taliban office in Qatar. The AP story quoted unnamed Afghan officials, and also offered specifics about the broad stances the Taliban has for a future peace process, while downplaying the chances for such talks in the near future.
Afghan officials now insist they have essentially no contact with the Taliban at all, insisting that any negotiations would have to be handled by the High Peace Council. This may explain the denial, as the report, if confirmed, would've meant the government is circumventing the council.
The Taliban also issued a statement following the AP report, insisting that they have no contact with the Afghan government, nor are they interested in having such talks. They declined to address the specifics of the article beyond that, however.