A Taliban suicide car bomber has carried out an attack against an Afghan military convoy in the southern Helmand Province, killing at least 13 people, mostly soldiers, but also including some civilian bystanders. Dozens were also wounded.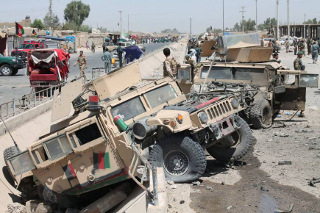 The attack took place in a market in Nawa District, an area of intense fighting in recent months. The Afghan government had claimed to have retaken the district, but today's attack shows the Taliban still has a presence in the area.
The Helmand Province has been a major site of fighting in recent years, with the Taliban controlling large portions of the area, which is mostly farmland, and profiting from the opium-growing industry therein.
Two hospitals in the area reported receiving wounded,with 19 arriving at one site, and 10 to the other. It is unclear how many of these wounded survived, or the condition of those survivors.