While President Trump, in his Monday speech on Afghanistan, focused on open-ended military escalation of Afghanistan with an eye toward "winning," he offered no real details on what that looked like, giving the impression that was by design because he didn't want to tell the enemies his plans.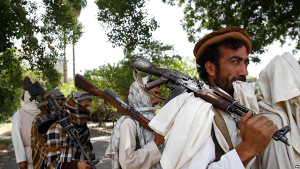 US officials inside Afghanistan, however, feel obliged to give at least a few details on what the US goals in Afghanistan look like, with both Gen. John Nicholson and embassy charges d'affaires Huge Llorens making clear that they believe victory means "a political settlement."
Nicholson said the idea of the escalation was to convince the Taliban that they cannot win, and "they will see that their best option is to pursue peace." He called on the Taliban to immediate disarm for the sake of a better future in Afghanistan.
Getting to the peace process has been a problem, however, as the Taliban has sought to condition peace talks on an end to the foreign occupation of Afghan soil, and the Afghan government has been very reluctant to negotiate at all, with the last serious effort at peace dying when the government leaked news of Mullah Omar's death, which had actually happened long before the talks were held.