Earlier this week, Palestinian Authority President Mahmoud Abbas complained that he'd met with US officials some 20 different times, and still didn't have a real understanding of Trump's Mideast peace plan. Today, he met with Jared Kushner, apparently with hope that the deal be ironed out.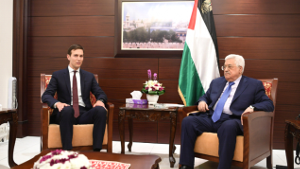 Kushner assured Abbas of President Trump's optimism and hope for peace, though once again this came without any real specifics on what the plan actually was, and still not even offering clarity on whether this is to be a two-state solution or not.
That's a recurring question, as Abbas had reportedly said of previous meetings that US officials had privately assured him of support for a two-state solution, but declined to tell Israel that was the plan. It appears little has changed.
Despite this, Abbas was very quick to publicly back the US peace push, not so much that he believes the push is genuine,  but that he really, at this point, has no alternative, as if the US really is determined to be secretive about this effort, there is little the Palestinians can do about it.