Reports of tensions between the Shi'ite Houthi movement, which is de facto in control of northern Yemen, and their ally, former President Ali Abdullah Saleh, appear to have been accurate. Indeed, tit-for-tat condemnations between the two sides suggest a mounting acrimony between them.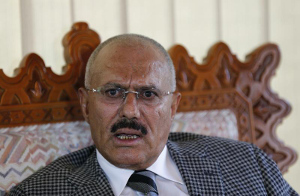 Saleh had recently made a speech during which he labeled the Houthis a "militia," which the Houthis say has "transgressed a red line." They went on to declare in a formal statement that "he could have only fallen into this because he's evil."
They went on to declare a state of emergency and ban political activity in their territory, which is likely to fuel a clash with the Saleh supporters, who had planned a major rally in the capital city of Sanaa for Thursday.
The military ruler of Yemen from 1978 through 2012, Saleh retains major influence across the nation. It was this influence that led the Saudis to court his support for their 2015 invasion and, when he refused, led the Saudis to launch airstrikes on his home.
The attacks led Saleh to back the Houthis, despite him having fought viciously against the Houthi movement when he was in office. His backing gave additional political support for the Houthis in governing northern Yemen, though as both sides split they add yet more complexity to a Yemen War which already sees multiple rival factions vying for power.