The US Navy has announced a full-scale pause in all ship operations following yesterday's collision of the USS John S. McCain with a civilian tanker, an incident which wounded five US sailors and has left another 10 missing. This was the second collision in three months.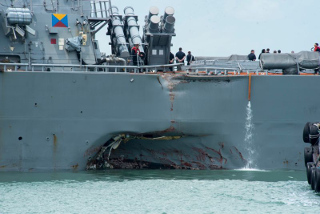 The worldwide pause will last only a single day, but there is a pause of the 7th Fleet, where both collisions occurred, that potentially could last longer, as officials try to investigate, and conduct a safety check on why their ships can't seem to navigate through oceans without smacking into other ships.
Navy officials say there is no sign that this latest collision was in any way "intentional." Admiral John Richardson, however, said he wouldn't rule out radar jamming or cyber interference being behind this latest incident.
The previous US collision was chalked up to a "failure of teamwork," and the ship's leadership was removed over loss of confidence. Officials say whatever the latest problem was, it's likely to boil down to human error somewhere along the line.