While President Trump made public the fact that a decision on Afghan War policy was made during Friday's Camp David meeting,his administration still hasn't provided any specific information on what exactly that decision was, apparently saving that for a Monday night speech.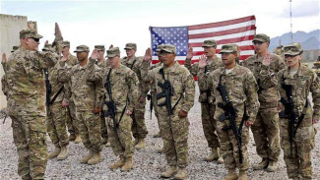 Afghanistan has been among the most contentious issues within the Trump Administration, with Pentagon officials, and National Security Adviser H.R. McMaster favoring a large escalation, but Trump and some others skeptical that such a deployment is going to accomplish anything 16 years into the conflict.
The firing of Stephen Bannon ahead of the meeting may hint at the pro-escalation side getting an advantage, and Defense Secretary James Mattis, whose unhappiness with a cap of 3,900 additional troops was the reason for the meeting, declared himself "very comfortable" with the final decision, again suggesting the hawks may have won out.
Trump had tried to delegate the decision to Mattis outright, but did so on condition the escalation would be no more than 3,900 more troops. Though it's unclear exactly where they landed, many reports suggested the Pentagon's "options" largely assumed 5,000 or more troops being sent.