Friday's Camp David talks on Afghanistan appear to have ended without a final decision by President Trump on troop levels, as he continues to resist pressure from top cabinet officials to sign off on a massive escalation of the 16-year-old conflict with thousands of fresh troops.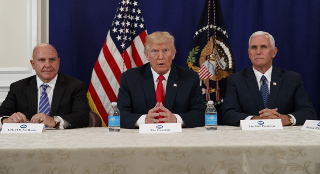 Trump had initially delegated the decision to Defense Secretary James Mattis, but Mattis found a cap limiting his maximum deployment too restrictive. Now, Vice President Pence and National Security Adviser H.R. McMaster are also taking up the cause of large-scale escalation, pushing Trump to accept the recommendations of the commanders.
Pence and McMaster were at the Camp David meeting, but Blackwater founder Erik Prince, who has been pushing a "privatize the war" initiative, was blocked, apparently at the behest of McMaster. Trump aide Steve Bannon, another skeptic of military escalation, was sacked outright.
Thus it appears the strategy now is to whittle down Trump's resistance by exposing him only to advocates of the escalation until he finally makes his decision, and keeping him carefully sequestered from any dissent.
The ever-hawkish Sen. Lindsey Graham (R – SC) appears also to be pushing the narrative that it's impossible for the war not to continue to be escalated, arguing that the US would have "another 9/11" if they stopped occupying Afghanistan a mere generation after the last terrorist attack.